The need for Pet Friendly rentals in Cairns….
The need for Pet Friendly rentals in Cairns and across Australia is in high demand. If you haven't considered renting your home out to a pet loving family, consider thinking again.
Why Landlords should consider Pet Friendly Rental
If you own an investment property and you have been hesitant about turning your rental home pet friendly then maybe it's time to consider it as a possible option.
The Facts
5 million Australian families own pets – approx 33 million pets in Australia
One third of Australia families rent
There are just not enough pet friendly rentals to meet the demand
60% of tenants are looking for a rental property that allows pets.
Only 10% of rental homes in Queensland allow for pets
It's true – Why Pets Owners make great tenants
Rental Properties that are pet friendly are in huge demand and rent much faster
Pet owners looking to rent are often willing to pay more rent
Pet owner prefer longer rental lease, reducing tenant turnover and advertisement fees
Pet owners tend to take the house rules seriously and cause less problems
Pet owners can be more considerate of the neighbours
Tips to make certain your rental investment is protected and Pet Friendly
If you are considering allowing tenants with pets, there a few things you can do to ensure your home is protected and pet friendly.
First, do the research… Have a think about what type of pet you will allow.
For example:
Small dogs or cats that are under a certain weight.
The number of pets allowed
A certain breed that doesn't shed hair
The most popular animals Australian love as pets are:
Cats
Dogs – small
Dogs – medium to large
Birds, fish and guinea pigs
What guidelines and instructions would you put in place?
Here are a few examples
Pets to be kept inside or outside
Depending on your property, the pet, the size, breed etc.. You may want to include this rule in your pet clause.
Ask the tenant for a pet resume.
This is an instant way have a clear picture of your tenant's pet. This could include details like:
Breed
Age
Vaccination
Flea and worming
Nature / temperament
Training
 Screening tenants with pets
Screening tenants with pets is a little different to a normal screening and must be lot more thorough. One of the most important points is to obtain references from the tenant's previous landlord regarding their pet.
Dogs must be house trained and have attended obedience lessons
This is a good rule to enforce. It shows that the pet owner has really gone all out to ensure their pet is toilet trained and disciplined.
Pet Hygiene
Ask tenant for proof of the last Flea-tick check-up report. Does their animal have a weekly pet bath? Add this into your clause and ask for proof. When the tenancy expires, the tenant should organise to have the property fumigated as well as all carpets cleaned.
Pet Bond
There is no pet bond to cover damages. But a pet agreement can be added to the lease stating that tenants are completely responsible for all damage caused by pets.
Pet Damage
There is currently just one Landlord insurance company we know off that offers pet damage cover up to $500 and that's Terri Scheer. So, make sure you include a pet agreement in your lease
Higher Rental Fee
Pet owners looking for a rental property expect to pay a higher rental fee
Increase in the Number of Property Inspections
Include a clause that your property manager increases the number of inspections to the property to ensure the tenant is looking after the house and abiding by the pet rules.
Pet Agreement / Clause
Your property manager can arrange on your behalf, a pet agreement or clause outlining your chosen rules to ensure your property is not damaged or effected in any way when renting your home out to pet owners.
Making certain that the owners of the pets take on full responsibility.Your property manager will take extra care to ensure your property is not negatively affected in anyway.
Your Property Manager will put rules in place to Ensure your Property is looked after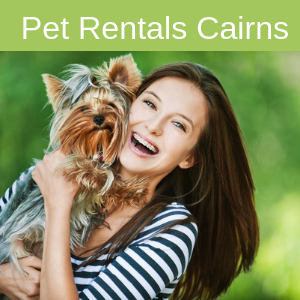 Pros and Cons of Being a Pet Friendly Landlord
PROS
Charge higher rent
Low to no vacancy rate
Bigger choice of tenants to choose from
Tenants usually stay longer
Responsible pet owners are usually excellent tenants
You can put pet clause in place
Add additional bond to cover any pet damage
CONS
Possible damage to property.
Chewing, digging and scratching
Complaints from the neighbours re: barking / noise etc..
Pets Odour's
Pet owner not cleaning up after their pet
You can not take a No Pet Bond from the tenant
When making the decision to allow your property to be pet-friendly it is important to consider all the pros and cons.
Tenants Guide to Pet Friendly Rental
There will be pet friendly landlords in Cairns but be patient as it may take a bit of time for your property manager to find them. This your opportunity to be persistent and resourceful meaning you need to plan ahead.
 Understand how a landlord feels especially if they have had a bad experience in the past with renting to tenants with pets. A solution orientated attitude could make all the difference.
 The one of most important things you can do is to present an eye-catching Pet Resume
 What is a Pet Resume?
A pet resume is one of the most powerful tools you can use to impress a property manager, who then will pass it onto the property owner. It portrays you as a responsible pet owner in every way possible. The more information you can provide about yourself and your pet, the higher your chances are of winning over the property owner and securing your rental.
What to put in your Pet Resume
With a detailed and well-presented pet resume you can showcase future landlords and property managers with an accurate description of your pet's finest qualities.
Apart from including the name, breed, age, sex etc.. you must include a description of your pet's nature and temperament, training and obedience certificate, noise control, pet hygiene and pet odour control.
Don't forget to add the medical history, vaccinations, flea control and treatment. Include a great photo and even better one with you and your pet.
Include details of microchip
Make sure you add details of your pet's registration and microchip. Cairns Dog and Cat registration form
More information on tagging and registering your dog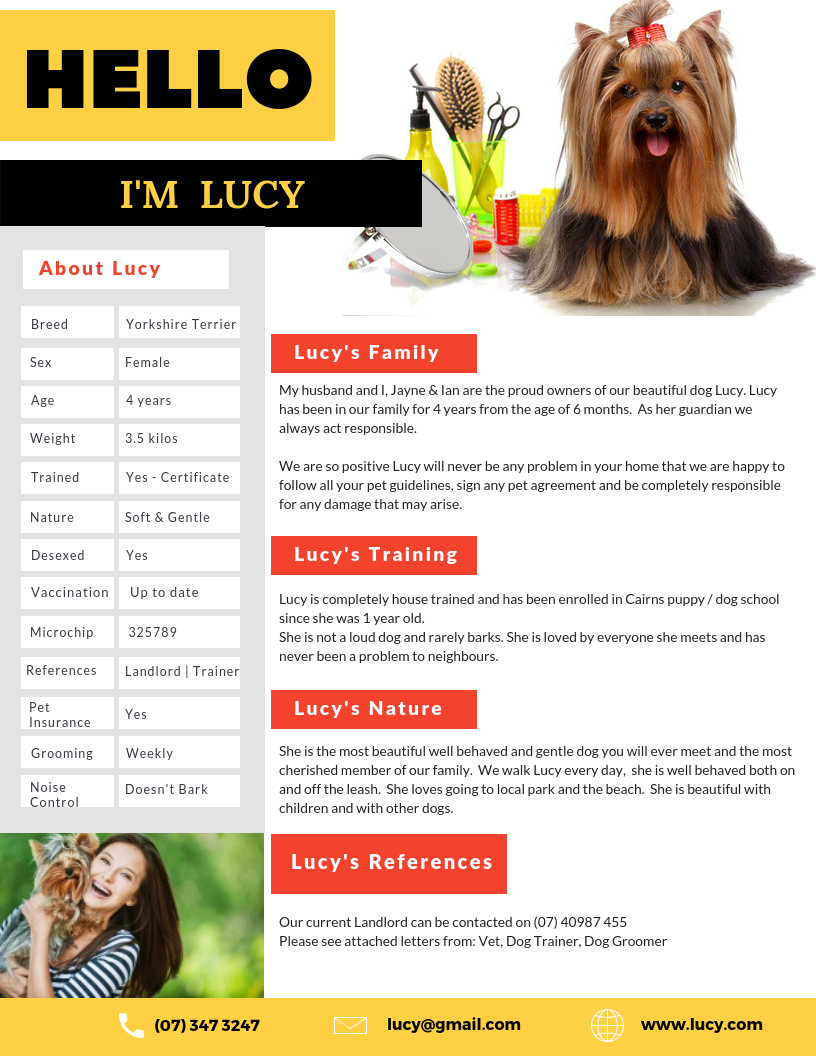 How to Impress the landlord
Everything that you can think of that could be a negative experience to a property owner who is consisting renting to a pet owner, make sure you have a solution.
 List Everything you are Prepared to do When you Vacate the Property.  
Remove all signs, traces or sours of your pet
Flea treatment, deodorising, carpet and floor steaming
Repair any damage, scratches, holes from digging etc..
 A check list of what else you can do to impress the property owner
Offer to sign along-term lease
Offer to Pay your rent in advance
Your willingness to follow strict pet guidelines set out by the landlord
More regular property inspections
show case yourself as a responsible pet owner and tenant
Positive reference from your previous landlord, vet, friends and neighbours
For first time renters get personal and professional references for your doctor, teacher, dentist. Anyone who knows you well.
Certificates of training
Letter from dog groomer and trainer
Consider pet insurance to show the landlord you are a responsible pet owner
Try to arrange a time for the property owner to meet your pet.
Help the property owner – Offer to make the backyard pet friendly
Hi, My Name is Paulina
I am the owner of Cairns Rentals
If you have any questions regarding this article or you would like any advice on renting your property or renting a property. I would love to hear from you.
Call me  on my mobile: 0431 900 668
Or send me an email and I will return your call